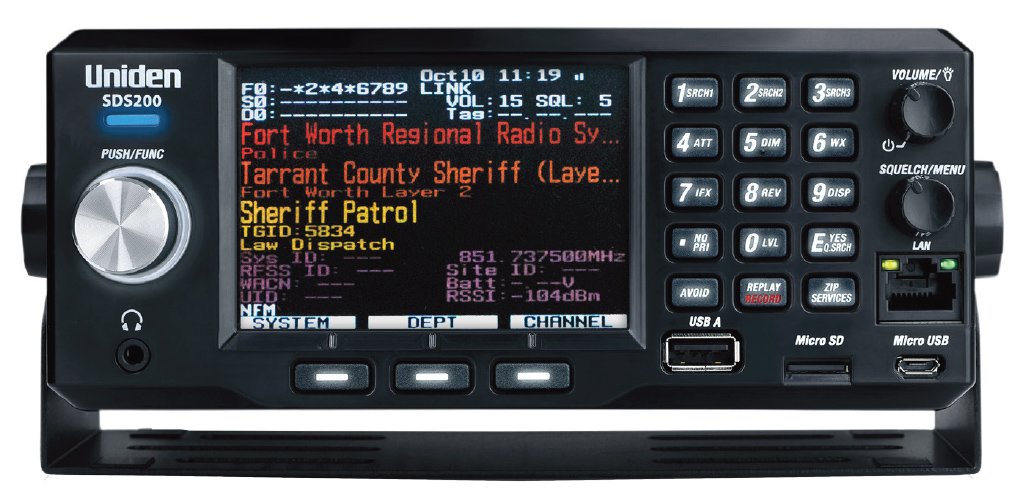 What is a scanner radio?
The terms radio scanner or police scanner generally refer to a communications receiver that is primarily intended for monitoring VHF and UHF land mobile radio systems, as opposed to, for instance, a receiver used to monitor international shortwave transmissions.
More often than not, these scanners can also tune to different types of modulation as well (AM, FM, WFM, etc.). Early scanners were slow, bulky, and expensive. Today, modern microprocessors have enabled scanners to store thousands of channels and monitor hundreds of channels per second. Recent models can follow trunked radio systems and decode APCO-P25 digital transmissions. Both handheld and desktop models are available. Scanners are often used to monitor police, fire and emergency medical services. Radio scanning serves an important role in the fields of journalism and crime investigation, as well as a hobby for many people around the world.
History
Scanners developed from earlier tunable and fixed-frequency radios that received one frequency at a time. Non-broadcast radio systems, such as those used by public safety agencies, do not transmit continuously. With a radio fixed on a single frequency, much time could pass between transmissions, while other frequencies might be active. A scanning radio will sequentially monitor multiple programmed channels, or search between user defined frequency limits. The scanner will stop on an active frequency strong enough to break the radio's squelch setting and resume scanning other frequencies when that activity ceases.
Scanners first became popular and widely available during the heyday of CB radio in the 1970s. The first scanners often had between four and ten channels and required the purchase of a separate crystal for each frequency received. A US patent was issued to Peter W. Pflasterer on June 1, 1976.  An early 1976 US entry was the Tennelec MCP-1, sold at the January 1976 Consumer Electronics Show in Chicago.
Features
Many recent models will allow scanning of the specific DCS or CTCSS code used on a specific frequency should it have multiple users. One memory bank can be assigned to air traffic control, another can be for local marine communications, and yet another for local police frequencies. These can be switched on and off depending on the user's preference. Most scanners have a weather radio band, allowing the listener to tune into weather radio broadcasts from a NOAA transmitter.
Some scanners are equipped with Fire-Tone out. Fire tone out decodes Quick Call type tones and acts as a pager when the correct sequence of tones is detected.
Modern scanners allow hundreds or thousands of frequencies to be entered via a keypad and stored in various 'memory banks' and can scan at a rapid rate due to modern microprocessors.
Active frequencies can be found by searching the internet and frequency reference books or can be discovered through a programmable scanner's search function. An external antenna for a desktop scanner or an extendable antenna for a hand held unit will provide greater performance than the original equipment antennas provided by manufacturers.
Legislation
In Canada, according to the Radiocommunication Act, it is completely legal to install, operate or possess a radio apparatus that is capable only of the reception of broadcasting (digital and analogue, but not encrypted data) provided that private information is not passed on or disclosed to any other person(s) or party(s).
A situation that occurred in the Toronto area on 28 June 2011 involving York Regional Police officer Constable Garrett Styles was picked up by scanners. On-line streaming of communications between the officer and police dispatch while the fatally injured officer was in urgent need of emergency help were picked up by local media. The tragedy was widely reported before the officer's family was notified. Several media outlets rebroadcast the recorded emergency transmission. A police initiative pressuring the government to create legislation to stop online streaming of scanner captured police communications was announced in April 2012. Although it is currently legal to stream information from a scanner in Canada, using the information for profit is not legal. Some Canadian police forces use encrypted communications which cannot legally be unencrypted and streamed onto the Internet. Applications are available permitting anyone with an Internet ready computer or smart phone to access scanner communications that are streamed onto the Internet by private individuals who possess the appropriate scanner and computer equipment.
In the end, being responsible and not giving agencies reason to migrate to encryption. Even though, Industry Canada is changing the rules to accommodate digital technology and to use narrower bandwidth channels, we don't need to be the reason for an agency to migrate faster and moving to encrypted channels.
Common Business Low Power Frequencies
These are typically used by low power business radios. There could be a wide variety of users that can be found on these frequencies ranging from fast food restaurants to office building security to construction sites to almost anything.
151.0550, 151.0700, 151.0850, 151.1000, 151.1150, 151.5800, 151.6250, 151.9250, 154.5400, 154.5700, 154.6000, 172.2900, 172.4700, 172.5000, 172.5900, 172.9200, 172.9500, 172.9800
451.1875, 451.6625, 451.7875, 452.0625, 452.3625, 452.5375, 452.8125, 453.4500, 453.7000, 453.7250, 454.2000, 454.2250, 458.6625, 459.2000, 459.2250, 460.9250, 462.8250, 463.8500, 464.5000, 464.5500, 469.2625
Uniden Scanners
Uniden is one of the most popular scanner manufactures currently.
Uniden became a well-known brand in the 1970s by manufacturing and marketing millions of CB radios, under the Uniden brand as well as many for popular private brand labels such as Realistic, Clegg (amateur transceivers), Cobra, Craig, Fanon-Courier, Midland, President, Teaberry, Teledyne-Olson, Pearce Simpson, Regency, Robyn and many European brands such as Zodiac, Stabo and Inno-Hit. Uniden also marketed CB Radios in the UK under the Uniden and Uniace brands during the late 1970s.
During the 1980s, Uniden grew to become the world's largest manufacturer of cordless telephones in addition to television satellite equipment, mobile radios, advanced marine electronics and radio scanners (the latter under brand name Bearcat).
Uniden's actual line of business is in research and development, manufacturing and marketing.
It produces over two million wireless products every month and manufactures one cordless phone every 3.2 seconds.
Whistler Group
The Whistler Group is an electronics company based in Bentonville, Arkansas, and is best known for its radar detectors. Whistler also manufactures power inverters, GPS navigation devices, inspection cameras, LED flashlights, vehicle dashboard cameras, and scanner radios.
In late 2013 Whistler Group acquired the scanner radio technical assets from GRE who closed their factory in 2012. In Early 2014 Whistler began manufacturing scanner radios very similar to those produced by GRE. Whistler manufactured scanners for Radio Shack.