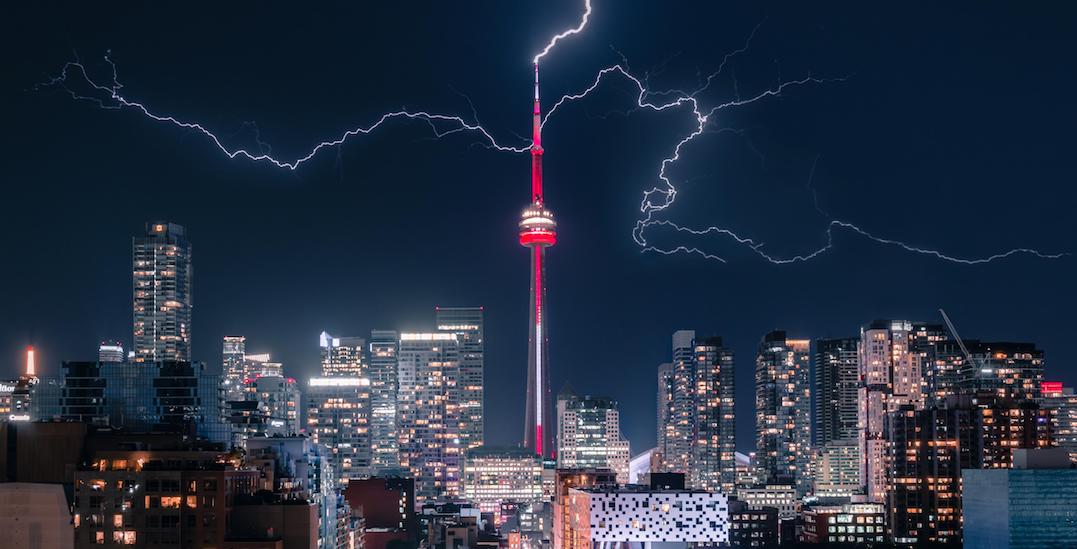 Weatheradio Canada is a Canadian weather radio network that is owned and operated by Environment and Climate Change Canada's Meteorological Service of Canada division. The network transmits in both official languages (English and French) from 230 sites across Canada. Weatheradio Canada like their telephone service, uses the Starcaster Text to Speech, which has been used for many years and is owned by STR-SpeechTech Ltd.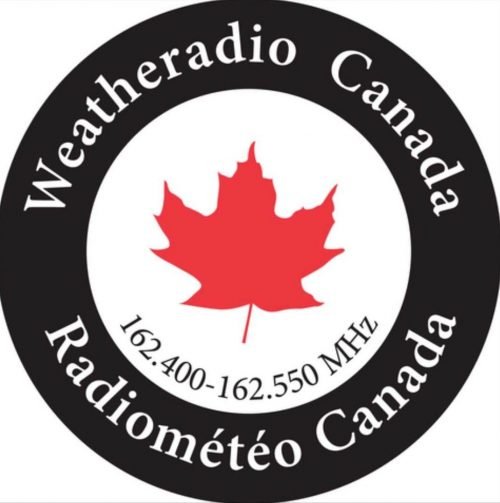 In most locations, the service broadcasts on one of seven specially-allocated VHF radio frequencies, audible only on dedicated "weather band" receivers or any VHF radio capable of receiving 10 kHz bandwidth FM signals centered on these assigned channels, which are located within the larger "public service band". The radio frequencies used by Weatheradio Canada are the same as those used by its American counterpart, NOAA Weather Radio, and receivers designed for use in one country are compatible for use in the other. Since 2004, the service has used Specific Area Message Encoding (SAME) alerting technology to disseminate severe weather bulletins. Weatheradio has indicated that, in the future, it also plans to add other hazard and civil emergency information (such as natural disasters, technological accidents, AMBER alerts and terrorist attacks) to its broadcasts.
In some locations, primarily national parks, provincial parks and remote communities with little or no local media service, a transmitter operated by the Canadian Broadcasting Corporation carries the service on a standard AM or FM broadcast frequency. As of August 2007, most of these AM and FM transmitters were unlicensed by the CRTC under a special license exemption granted to low-power non-commercial broadcasters.
History
In 1976, Environment Canada Weatheradio's service was launched and expanded to 30 locations in roughly 10 years. In the early-1990s, increased government investment permitted major expansion of the network to the present size of 179 sites.
Programming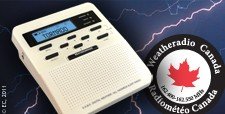 Weather information is broadcast in both official languages which is English first then French. Weather alert broadcasts are inserted within the normal playlist, and are available in both official languages. Marine forecasts are broadcast, though on a limited schedule. Most marine forecasts are broadcast on the marine frequency, which is not available on most weather radios. One requires a special receiver capable of receiving the marine frequency, which varies by province. Environment Canada formerly broadcast a full marine forecast which included marine alerts; this has since changed between 2007 and 2009. Weather broadcasts also include the UV index for the forecasted day, and for the following day during the UV index season. The index runs from 1 (low) to 10 (extreme).
Receivers
A basic Weatheradio receiver uses warning tones as the trigger that activates the alarm features. Users who purchase a basic Weatheradio will receive the weather audio broadcast and will also be alerted to severe weather warnings, for events like tornadoes and severe thunderstorms.
The enhanced Specific Area Message Encoding (SAME) capable Weatheradio receivers use digital SAME codes as the trigger that activates the alarm features. Users who own or purchase a SAME-capable Weatheradio will be able to receive the full suite of weather and non-weather related emergency messages which include watches, warnings and advisories. In addition, they will be able to access the full functionality of the warning device unit, with features like the ability to pre-select which warnings to receive, and for which region(s).
Frequencies Used
Weatheradio Canada signals are transmitted using FM (10 kHz bandwidth), with band spacing of 25 kHz. The service uses these frequencies:
162.400 MHz
162.425 MHz
162.450 MHz
162.475 MHz
162.500 MHz
162.525 MHz
162.550 MHz
SAME Codes
Specific Area Message Encoding (SAME) is a method of identifying the local area to which an alert message applies. It uses a digital data stream that contains the alert message, with information about the type of event expected, its timing, duration and location. Identification codes for the specific location and type of event (event codes) are embedded in the broadcast by an encoder at the transmitter site, and are decoded by SAME-capable models of Weatheradio receivers. Within the broadcast, this data stream can be heard as a brief tone or static-like burst of noise.
Scientific improvements have made it possible for Environment Canada to more precisely pinpoint the area at risk when issuing weather warnings. However, the broadcast pattern for each Weatheradio transmitter is approximately a 60 km radius which may include 10 or more of the small weather warning regions. A SAME-capable Weatheradio can be programmed with the Canadian Location Code (CLC) for the immediate area, to screen out messages that don't apply to the user. Receivers may also be programmed to not activate when specific types of messages are sent, such as flash freeze warnings. Certain event codes such as tornado warnings cannot be disabled. These newer receivers also permit notification of weather watches and advisories in addition to weather warnings.
Enhanced SAME-capable receivers will recognize the SAME event code for the full suite of weather and non-weather related emergency messages. When an event happens, it triggers colour-coded status lights that indicate when a warning, watch or advisory is issued, in addition to the full audio, visual and/or text alert. This feature assists emergency responders in monitoring the severity of events as they escalate.
All Weatheradios with the SAME decode feature can be preset to activate only in a local geographic area. To program one of these models, select the appropriate codes from the CLC code webpage and then follow the manufacturer's directions.
There are also options that permit the receiving of warnings for more than one location in the broadcast area and, with some models, an additional option to disable the alerting feature for certain types of warning messages.
Older Weatheradios do not have the SAME decode feature. These units will continue to receive the full range of weather watches, advisories and warnings as in the past. However, they will not be able to take advantage of the enhanced options offered by a Weatheradio with SAME decoding capability.
Type of Alerts
The type of alert used depends on the severity and timing of the event:
Special Weather Statements are the least urgent type of alert and are issued to let people know that conditions are unusual and could cause concern.
Advisories are issued for specific weather events (like blowing snow, fog, freezing drizzle and frost) that are less severe, but could still significantly impact Canadians.
Watches alert you about weather conditions that are favorable for a storm or severe weather, which could cause safety concerns.
As certainty increases about the path and strength of a storm system, a watch may be upgraded to a Warning, which is an urgent message that severe weather is either occurring or will occur. Warnings are usually issued six to 24 hours in advance, although some severe weather (such as thunderstorms and tornadoes) can occur rapidly, with less than a half hour's notice.
These alerts are updated regularly so that members of the public can stay on top of a developing situation and take the appropriate action.