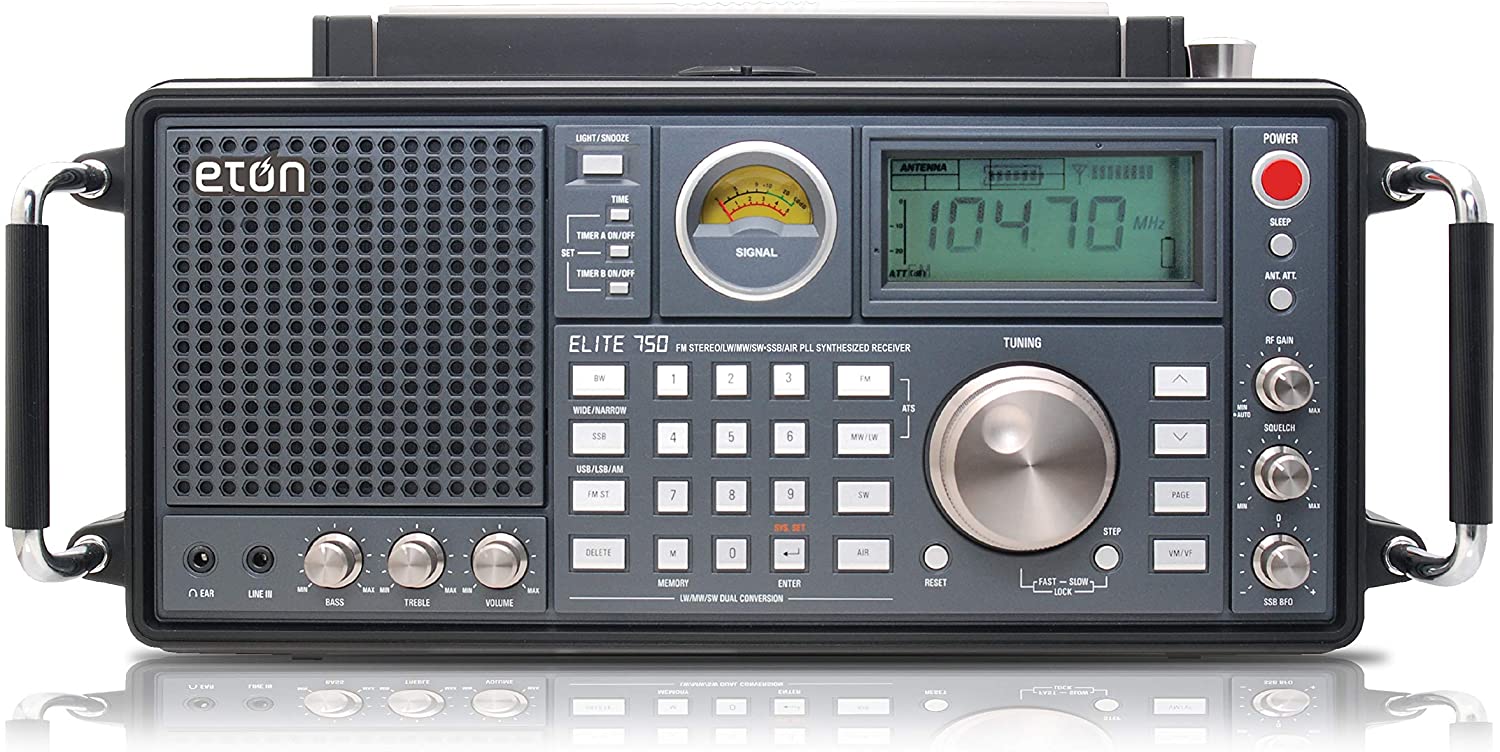 I am finally back into HF after a long-time gap. This page will focus mainly with HF communications for the North America – North Atlantic area.
Under construction.
AERONAUTICAL HF
The oceans are too vast for VHF radio and radar coverage for air traffic controllers. Extended coverage is provided via the ICAO High Frequency Enroute Network of Major World Air Route Areas (MWARA).

Voice transmissions are in upper side band. English is the primary language. The network is divided into 11 areas covered by scores of ground stations from New York to Tokyo.

HF is also used over remote regions of Africa and Asia.
Gander Air Control Centre
The Gander ACC ("Gander Centre", CZQX) is responsible for controlling aircraft in the western half of the North Atlantic oceanic airspace. The Gander oceanic airspace is bounded to the north by the Icelandic Control Center, on the east by the Prestwick, Scotland, control centre, to the south by the Portuguese control centre in the Azores, and finally to the southwest by the New York Air Route Traffic Control Center.
Gander ACC uses the Gander Automated Air Traffic System (GAATS). GAATS is a proprietary system of Nav Canada used for the oceanic airspace of the Gander Area Control Centre (ACC).
Most of the airspace is not monitored by radar, so procedures differ from those in continental airspaces. GAATS is an oceanic air traffic management system that automatically processes flight data and provides air traffic controllers with a radar-like picture of traffic in oceanic airspace. GAATS also provides automatic waypoint reports, and use of Controller Pilot Data Link Communications (CPDLC) which is text-based messaging for such routine requests as altitude changes. GAATS brings significant safety and efficiency benefits to North Atlantic airspace.
North Atlantic airspace is the busiest oceanic airspace in the world with about 1,300 flights a day, most of which are large commercial carriers. More than half the flights follow the North Atlantic Tracks but about 40% are 'random', with flight plans not on tracks, such as search/rescue and others. Nav Canada shares control of this airspace with its United Kingdom counterpart, the National Air Traffic Services (NATS).
The GAATS technology is now used by NATS' Shanwick Oceanic Control with Nav Canada and the UK ANS provider collaborating on flight management for the whole of North Atlantic airspace.
GAATS traffic management capabilities are achieved through the tight integration between air traffic, airspace and weather models. Operational flexibility and workload balancing are further enhanced through dynamic sectorization.
Specifically, GAATS gives controllers increased situational awareness by having on-screen access to data from a variety of sources, as well as a visual display of the aircraft positions, much as a radar controller would. Among the many features available, controllers can use this new computing and display power to view projected routes and their timelines, and to help avoid potential conflicts.
MWARA Maps and Frequencies
The following are maps showing the North America area of control and their associated frequencies.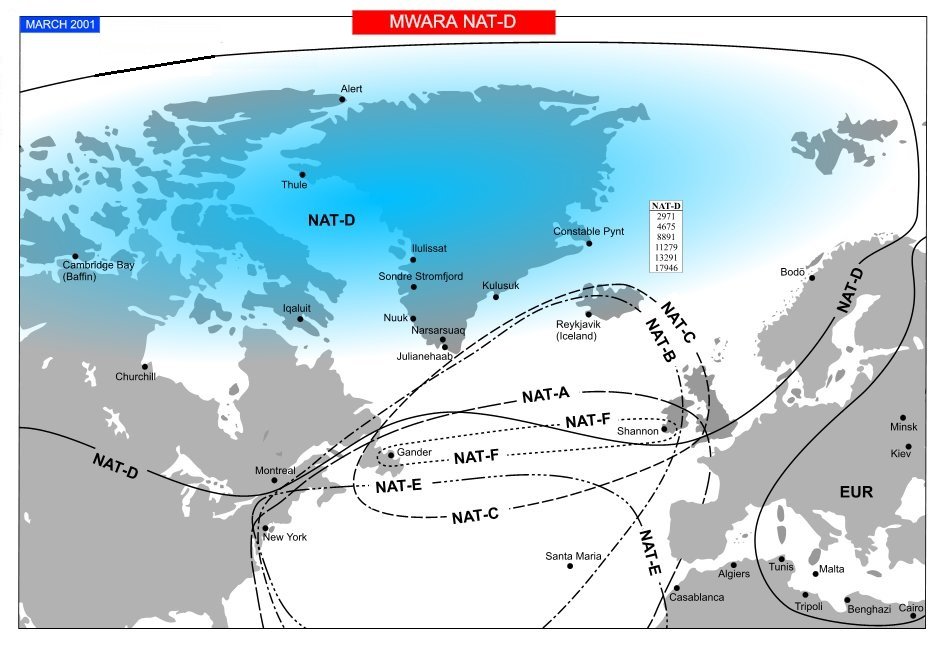 Current Active Frequencies
Military HF Communications
CF MACS
On the Canadian Military side, the services are provided by Military Aeronautical Communications System (MACS). MACS provide non-tactical air-ground communications and may be used for position reporting, weather information and search and rescue operations. MACS aeronautical stations have point-to-point relay capabilities which is also supported for message traffic by teletype. Therefore, position reports and messages destined for any location may be relayed through any MACS station.
Trenton
Voice Call: TRENTON MILITARY
Initial MACS Contact Frequency: 11232.0 kHz and 9007.0 kHz
Edmonton
Remoted to Trenton
Voice Call: TRENTON MILITARY
Initial MACS Contact Frequency: 11271.0 kHz and 8989.0 kHz
St. John's
Remoted to Trenton
Voice Call: TRENTON MILITARY
Initial MACS Contact Frequency: 11232.0 kHz and 9007.0 kHz
Frequencies (USB Voice): 3047.0 3092.0 4703.0 5717.0 6706.0 6745.0 *6754.0 8989.0 9007.0 11232.0 11265.0 11271.0 13257.0 15031.0 *15034.0 17994.0 18012.0 23250.0 kHz.
*Exclusive Weather Broadcast Frequency – Not monitored.
USAF HFGCS
On the US Military side, the High Frequency Global Communications System (HFGCS) is operated by the U.S Air Force to communicate with aircraft and ground stations. Receiving and transmitting sites are remotely controlled from Andrews Air Force Base and Grand Forks Air Force Base. The primary HFGCS voice frequencies are 4724.0 kHz, 6739.0 kHz, 8992.0 kHz (night primary), 11175.0 kHz (day primary), 13200.0 kHz and 15016.0 kHz. All USB. Military aircraft can also be heard on MWARA frequencies.
Voice transmissions are less common these days and I am not sure if there are still schedules. As far as I know the old ones are still valid. The summer schedule runs from April through September and the winter schedule runs from October through to March.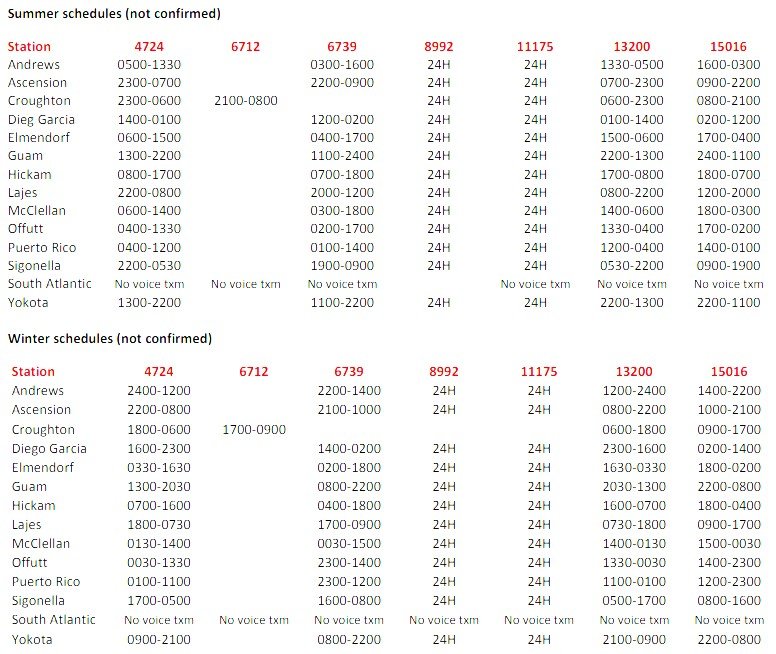 Emergency Action Messages (EAMs)
EAMs are frequently read on the HF-GCS frequencies and usually won't take you long to hear one. They begin with a 6 letter header, this preamble could have a few different uses, but NPS states for Minuteman Missile launches "The preamble told the crew which edition and page number of a non sealed authentication to use. Once at the right page the crew would know what message checklist to use." The receiving crew has access to an emergency action checklist binder where the message and instructions are copied to. Then the message continues afterward and is repeated.
A typical EAM message is 30 characters long but can be different. There have been EAMs over 200 characters long before. The message usually ends with "Mainsail Out", but can change based off where it is being sent from ex. (Offutt out). Mainsail is the collective callsign for all ground stations in the network. From 2013 – April 2015, "Mainsail Out" was a much more commonly used ending than the originating base. Since then, you will now mostly hear a callsign being used for the sender/recipient.
Another unique callsign is SkyMaster – the collective callsign for all USSTRATCOM airborne command units.
Sometimes messages are intended for specific recipients, and tactical callsigns are read at the end of a message. For example "For WAITER" and "For TRINITY" have been used as tactical callsigns before. These callsigns are changed very often, and can change in less than an hour or possibly even shorter.
Test counts are also normally sent over the HF-GCS:
"This is mainsail with a test count… testing 1, 2, 3, 4, 5… 5, 4, 3, 2, 1"
Sometimes you will notice an echo of the voices in the background. These echos are a result of propagation delays because of slow landlines and the satellites going to the multiple widely spread transmission sites.
Skyking Messages
Also known as "Foxtrot Broadcasts" are Skyking messages. These are a higher priority message and are sent in a different format from EAMs. Skyking messages will sometimes even interrupt an ongoing EAM since it's the highest priority. "Skyking" is the collective callsign for sending messages to all Single Integrated Operation Plan (SIOP) aircraft and missile Ops which are also responsible for deploying strategic bombers, reconnaissance aircraft, and various support aircraft.
A Skyking message begins with the reader speaking "Skyking Skyking do not answer", followed by a codeword, then two numbers for the time of the hour, and ends with a 2 letter authentication string. The message is then repeated. Skyking messages have the same ending as a regular EAM and can also change depending on where it is sent from. Until 2016 Skyking began with a 3 letter trigraph instead of a codeword. In 2015-2016 the trigraph was still used, but sometimes a codeword was used instead.
Skybird Callsign
Skybird is the collective callsign for all USSTRATCOM command posts, launch control centers, Global HF stations, Air Traffic Control (ATC) towers on Air Combat Command (ACC)/Air Mobility Command (AMC) host tenant bases, Singles Sideband HF radio stations, and air defense sites in Canada.
"Skybird" is rarely ever heard on HFGCS comms. When a Skyking message is sent out, the receiving plane(s) transmit to Skybird – which is what sends the Skyking message and acknowledges it. Skybird likely has many other uses and also has changed over time.
Shortwave Broadcasters
Shortwave Radio broadcasts are a great way to get a look at what's going on around the world, and during times of crisis can play a vital role in your ability to gather intelligence and news from outside of your area. Generally, shortwave broadcasts can be found between 3–30 MHz.
When it comes to listening to shortwave broadcasts, it's not going to be as easy or predictable as listening to local AM and FM broadcasts. Here are some things to keep in mind when trying to find shortwave stations.
Shortwave Radio Stations do not generally operate 24/7 and where and when they operate could depend on the time of day and propagation.
Invest in a good pair of head phones; headphones help you isolate sounds and can be a good way to hear weak stations.
As a general rule of thumb, Shortwave reception is much better after the sun goes down. The best nighttime bands are from 5900-10000khz. During the day, the easiest frequencies are from 12000 to 22000.
Most countries broadcast at least an hour of English-language broadcasts every day, some do a lot more.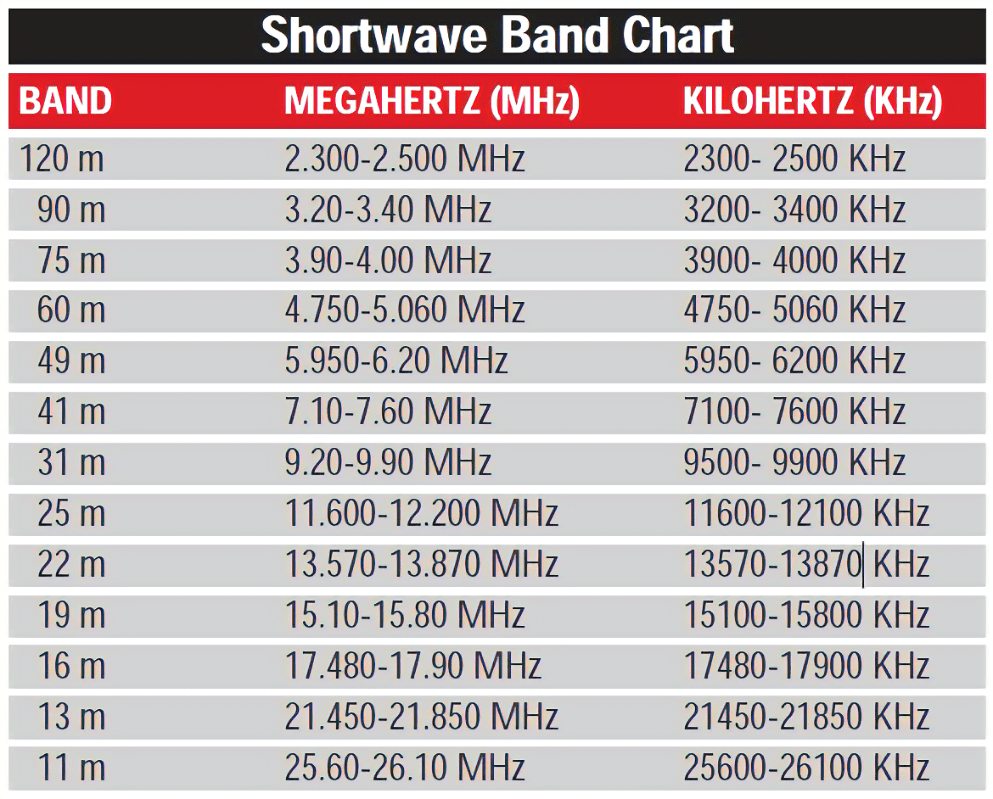 ShortwaveSchedule.com is one of the best sites to help monitor shortwave broadcasters.
HF Conditions
Key for the Following Charts
The three main items you want to pay attention to are the SFI (Solar Flux Index), the K-Index and the A-Index.
SFI – Summarization of the Sun's Radiation Output
70 – Not Good
80 – Good
90 – Better
100+ – Best
K-Index Updated every 3 Hours
K = 0 Inactive
K = 1 Very quiet
K = 2 Quiet
K = 3 Unsettled
K = 4 Active
K = 5 Minor storm
K = 6 Major storm
K = 7 Severe storm
K = 8 Very severe storm
K = 9 Extremely severe storm
A-Index – Daily Average of Magnetic Activity
A = 0 – 7 Quiet
A = 8 – 15 Unsettled
A = 16 – 29 Active
A = 30 – 49 Minor storm
A = 50 – 99 Major storm
A = 100 – 400 Severe storm